Doja Cat's Defiance of Gendered Fashion Conventions at Fashion Week
Doja Cat, savvy singer-songwriter, rapper, and performer, has taken the world by storm since her viral breakthrough Mooo! and hasn't stopped evolving since. From the start of her flourishing career, Doja hasn't been afraid to be out of the box not only with her humor, but with her fashion.
On the red carpet female celebrities are expected to present themselves at their sexiest, most elegant, feminine self. "Don't be crazy, but don't be boring." That's the code.
"Discussions about celebrities' looks across media focus overwhelmingly on women's outfits and… are ultimately used to assess these celebrities' value as women. Moreover, celebrities of colour must negotiate racialised notions of respectability and labour standards in cultural industries and are often burdened with representing their entire identity group due to their broader media underrepresentation" – Scholars Lawson and Draper
But Doja pointedly refuses to confine to the gendered conventions of celebrity fashion by flaunting her creative prowess, rather than a marketable sex appeal that the industry imposes.
Throughout Paris Fashion Week, Doja's freshly shaved head continued to garner attention. Calling back to Britney Spears, whose shaved head was excessively scrutinized and brought into the glaring eyes of the public, Doja's choice was autonomous and powerful. Hair has long been associated with femininity and sexuality, and a big chop or buzz is seen as a rejection of that narrow ideal. Many fans and non-fans alike were outraged at her buzzcut, angered because, in their eyes, she didn't look as good: they could no longer sexualize her in the way they desired. But for Doja, it was freeing, she "never liked having hair" anyway. And as we can see from her stunning Fashion week looks, her shaved head opened literal canvas space for her to express herself at a new creative level.
At the Schiaparelli show, Doja arrived covered head to toe in Swarovski crystals and red body paint. Doja's avant-garde look stole the show, and it's hard to imagine this look without a bald head, or even any other celebrity doing it. Even if you don't like the look for whatever reason. Whether it was "too much" or it strayed too much from her typically attractive stage outfits, her dauntless dedication to the art is undeniable.
For the A.W.A.K.E Menswear show Doja covered herself in metallic gold paint. No lashes, no brows, no lipstick. No elements of the standard red carpet attire were present in this look. When asked to comment on it, Doja said "it wasn't about being sexy or beautiful. It was about the message and feeling empowered and living as your highest self."
When remarking on her Fashion Week experience, Doja expressed to W Magazine, that the week was about the art, "My fashion week experience was special because I was able to get the message across to people that I am an explorer of art and fashion. I don't think I thoroughly have been able to get that message across."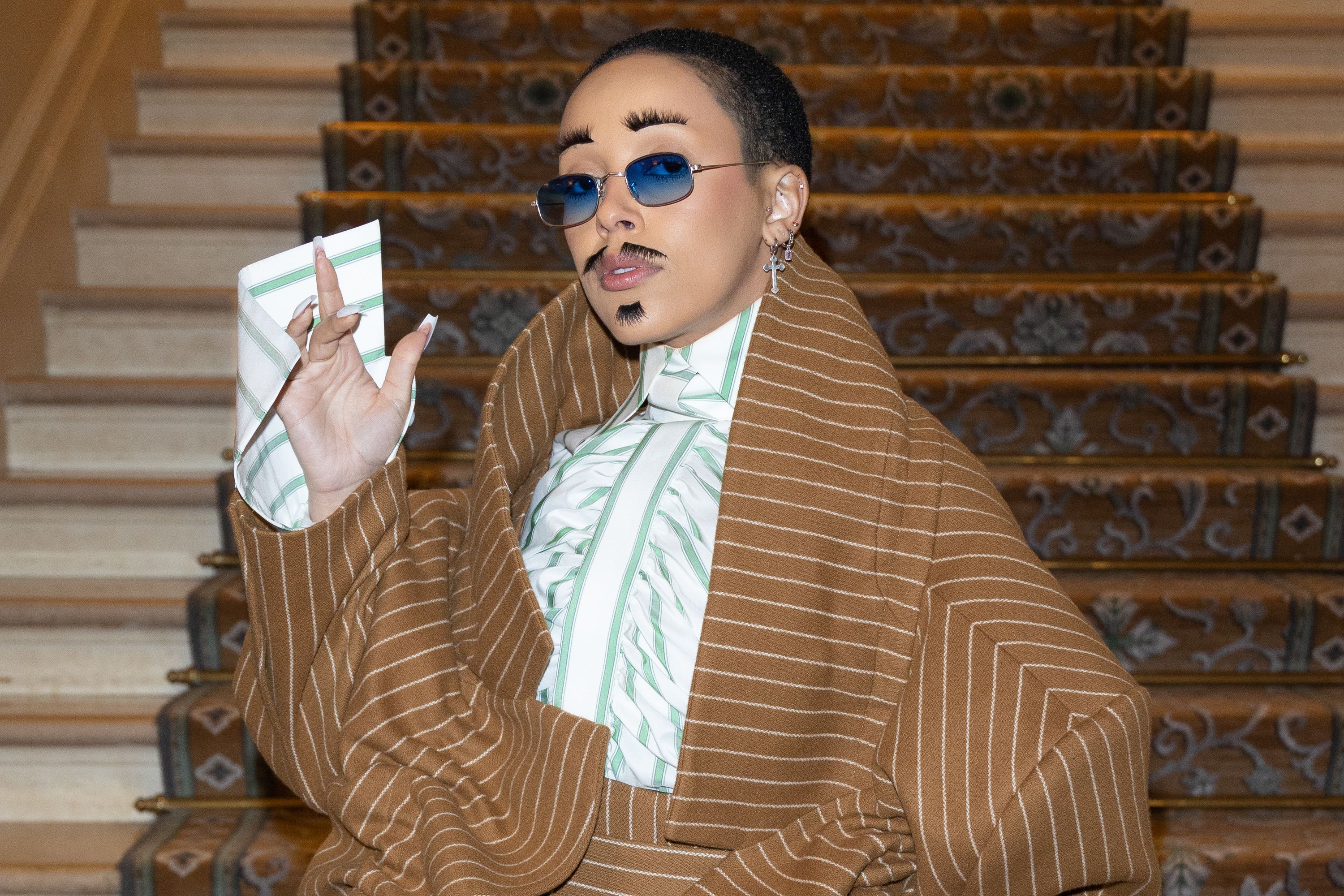 With each look, Doja showed a new color from her vast fashion portfolio. She's demonstrated now more than ever that her creativity is not bounded to the stage, but extends to the red carpet where she innovates against traditional expectations for female celebrities.
Featured Image Courtesy of Cosmopolitan