The chunky sneaker: most well known in the form of the Balenciaga Triple-S but most commonly bought in the form of the Fila Disruptor II. The chunky-sneaker craze is arguably the biggest footwear trend of the last two years. But where exactly did the chunky shoe come from? And where is it running to next? Read on to discover the origin, peak, and future of the revolutionary trend.
The chunky-sneaker craze kicked off with the Raf Simons x Adidas Ozweego in 2013. While the Ozweego clearly didn't gain the colossal traction of the Disruptors, they proved to be one of Simons' most popular sneakers and were an early marker of the later trend to come. In fact, Marc Canipa, Head Of Footwear at Fila UK, said the Ozweego inspired him to reimagine the Disruptor in 2014.
As street culture grew stronger, the trend gained momentum in 2017. Workwear was shifting to more casual options, and the influence of hip-hop and rap spread with social media.
Especially for women, the chunky sneaker juxtaposed edginess with refined modernity, offering an alternative to high heel shoes. "The high heel [was] losing currency," shoe historian Elizabeth Semmelhack told Cosmopolitan. This change was "in part, related to the #MeToo movement" Semmelhack said.
Meanwhile, luxury brands began featuring bigger sneakers on the runway. The Vetements 650 Reebok sneaker brought the chunky sneaker into the realm of luxury, but Balenciaga launched the style to fame with its Triple-S sneakers. The Balenciaga sneaker was the fastest-selling item in 2017 due to its limited quantity, elite price, and distinctive design.

The trend became available for the masses in the Fila Disruptor II. To date, #filadisruptor and #filadisruptor2 combined are tagged in over half a million Instagram posts. In fact, the shoe alone has grown Fila's footwear by around 60% over three seasons. This is the highest volume of sales Canipa has ever seen for a single footwear item.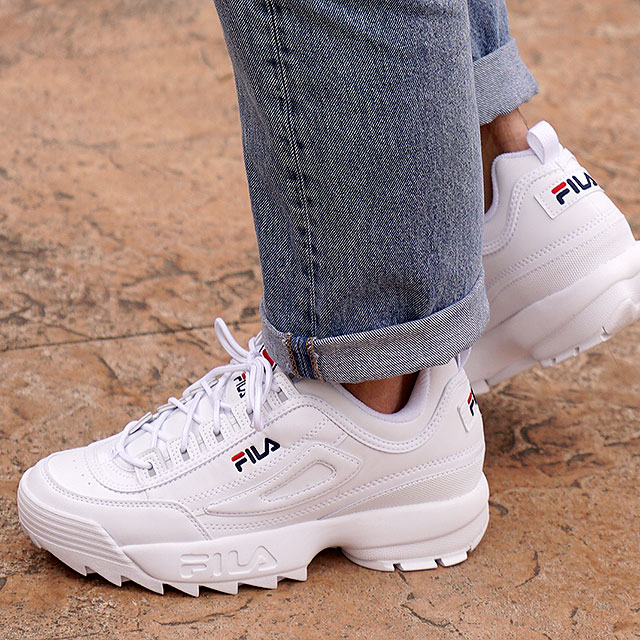 The Fila Disruptor II has become widely popular; maybe because the shoes target a different audience than luxury brands. Chris Black of New York Magazine describes the average Disruptor wearer: "Their Urban Outfitters frequent shopper card is full, they love to Juul, they listen to Billie Eilish, and they think Marilyn Manson was actually edgy."
But Black also notices an interesting point about the demographics of those who wear the chunky sneaker. Though Disruptors were all the rage for the last couple of years, global searches for Disruptors peaked in September of 2018 and had a sharp drop off in December 2018. The edginess of the chunky sneaker may have been diluted by its popularity in the mainstream market.
The media has conflicted opinions about the 2020 footwear trends. WhoWhatWear predicts that sneakers are here to stay, with chunkier soles or sleeker platforms. Marie Claire predicts low tops or futuristic trainers. But either way, it can't be denied that whatever comes next has big, chunky footprints to fill.