Though I want nothing more than to indulge in a trip to Center City and peruse the racks of Urban Outfitters and Brandy Melville, I'm often limited by the pained cry of my wallet. One strategy I've found that has always proved useful is to obtain clothing items that can be exchanged with one another, creating a unique look each time, and giving the illusion that you've just taken yet another trip to the local shopping mall. These closet staples are the perfect way to ensure you can create multiple classic, yet stylish looks on a day-to-day basis.
Images Courtesy of New York Magazine
The Plain White Tee: Though it may seem overly simple at first, the plain white t-shirt is a necessity to any closet for the sheer number of possibilities it offers. You can pair it with high-waisted jeans, with an outer jacket (leather, denim, bomber), an infinity scarf, a long necklace, the possibilities are endless! For yet another twist, try tying the shirt in a knot in the front for a cropped style in the summer. Not to mention, white goes with every color. It also helps to have this simple V-neck tee in other basic colors as well: grey, black, navy blue, etc.
Image Courtesy of Shoptiques
2. The Little Black Dress (LBD): Whenever you're scrambling for the perfect addition to your elegant night out, it always helps to have this dress hanging in the back of your closet. The singular color and fit are flattering and once again, can match with any color heel you feel like donning that night. If you want to tone the look down, you can even pair it with a sleek pair of white tennis shoes and an outer jacket, or you can choose to glam it up with some diamonds.
Images Courtesy of AllSaints
3. The Leather Jacket: Outerwear is the simplest way to add a little extra to an outfit. If you wear a shirt one day, and pair it with this jacket the next, you've completely reinvented the way that shirt is seen in two different outfits, just by adding this item of clothing. It's not only comfortable, but the black color gives you flexibility in pairing it with almost anything as well as any material of pants. You don't even just have to accompany it with denim and a top; you can match it with a dress as well.
Image Courtesy of Missguided
4. The Denim Jacket: Yet another addition to outerwear is this comfy coat. Denim jackets come in a wide variety of colors, light wash, dark wash, medium wash, white, black, etc, each suited to a different occasion. I recommend investing in just a few shades. With each tone having a variety of possibilities, you'll never run out of matches for this.
Image Courtesy of Tobi
5. Black Jeans: With jeans coming in multiple shades of blue, they don't always match certain tops. Black jeans ensure a neutral color that can be paired with those more original printed tops, while still giving you a casual appearance. In addition, you can purchase these jeans distressed, giving a little edge to your overall look. They can be paired with a bodysuit, a regular V-neck, a sweater, and not to mention so many different types of boots for the upcoming cold season.
Image Courtesy of Amazon
6. Paper bag pants: These are a personal favorite of mine. I can never get enough. Not only do they come in a variety of patterns and shades (black with white stripes, white with black stripes, white and blue striped, plain colors such as green, yellow, pink, white, black, etc), they are a great alternative when you don't feel like your squeezing your legs through the confining fabric of jeans. It feels like pajama pants, but are soft and allow your legs some breathing room. In addition, you can pair with the previously mentioned plain white tee, or any other t-shirt, along with some denim outerwear. The print of these pants adds a little extra pizzazz as opposed to a plain pant.
Image Courtesy of Urban Outfitters
7. Suede Ankle Boots: Don't restrict yourself to the image here. Suede boots come in a variety of colors that'll make you perfectly prepped for this fall and winter season. In addition to black, be sure to invest in a pair of light tan or even a darker brown. On a less wet day, you can also try your hand at a snakeskin pattern or glossy white.
Image Courtesy of Amazon
8. Hoop Earrings: Moving into the accessory side of things, this is a staple that also has great variety. Not only can you pick from silver, rose gold, and gold, you can also vary the size of these earrings as well as the thickness, texture, pattern, and if the hoop is complete or not! If your outfit is feeling a little plain, throw these on as a simple yet effective way to get the look you're going for.
Image Courtesy of Manolo Blahnik
9. Black Pumps: These are perfect for any business meeting, but can also be worn to a casual girl's night out. When paired with jeans, they can give you the evening dinner class you were going for without being too over the top. This shoe is well-suited for all types of occasions.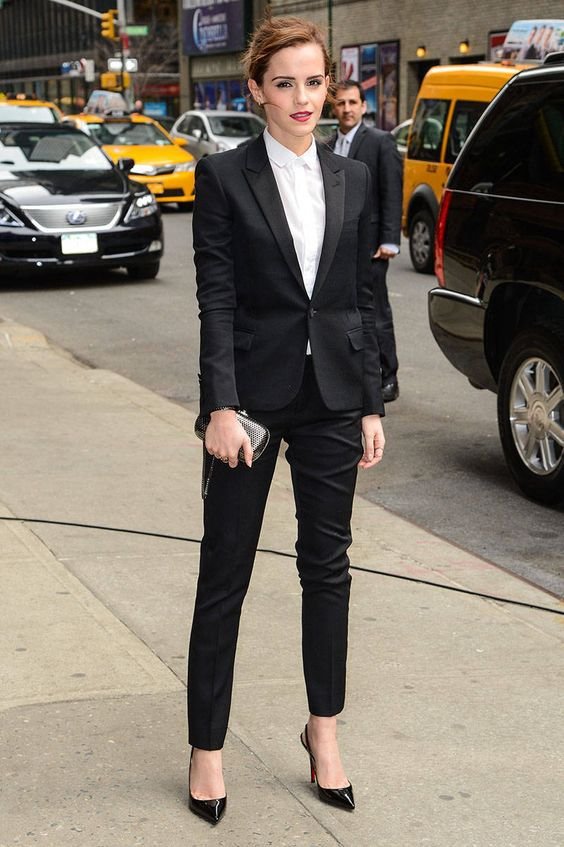 Image Courtesy of Scoopwhoop
10. Black Trousers and Fitted Blazer: Though you don't necessarily have to wear these two together, they'll give you the perfect go-to for your next interview. The black trousers themselves can be paired with a button down blouse, or even something a little more bold like a flowered shirt. The blazer can be paired with jeans to make your day out in the city a little more chic and professional.