It's been just over a month since Karl Lagerfeld passed away at the age of 86 and three weeks since models walked down a Paris fashion week runway in the last show Lagerfeld designed for Chanel. The fashion world is still reeling. It's rare that the industry loses such an influential figure so unexpectedly. Today, we take a look back at some of the most iconic moments from Lagerfeld's nearly sixty-year career.
The Creation of the Fendi Logo
Lagerfeld may be most known for his work at Chanel, but while Lagerfeld designed for Chanel, he created Fendi as we know it today. Under Lagerfeld, Fendi was transformed from a small leather and fur atelier into a genuine fashion powerhouse. Most notably, he created the iconic Fendi double "F" logo – yes, the same one that's all over every Instagram model's feed. You're welcome, Kim.
The Baguette Bag
Speaking of Fendi, Lagerfeld's direction led the brand to release the it bag of the 2000s: the baguette bag. Anyone who has seen Sex and the City (or, for that matter, ever seen pictures of Paris Hilton during the early 2000s) has witnessed the Fendi baguette in all its glory. The baguette bag attracted a cult following, eventually leading to over 1,000 iterations and counting.
The Power Suit
The iconic Chanel power suit of the 1980s was, in large part, thanks to Lagerfeld's creative direction at the iconic fashion house. Karl revived Coco Chanel's original vision for the suit and added sharp shoulder pads, waist belts and oversized accessories. This drove the suiting trend of the 1980s, inspiring masculine cuts and styles that were previously excluded from women's fashion. Lagerfeld's power suits said "high-power job", and exuded confidence at a time when women were pushing back against discrimination in the workplace.

Fendi x Milan Fashion Week 1993
The audience for Fendi's Milan fashion week show arrived expecting to see models parading down the runway. Instead, they found the clothes – chunky knitted ensembles – displayed on mannequins. According to Lagerfeld, these were "simple enough to understand" without a full runway show. Apparently, swimwear was a different story. In the show room, audience members were shocked to find adult actress Moana Pozzi and an entourage of Italian strippers dancing in a zodiac-inspired swimwear line. Anna Wintour was so upset she left the show. Well played, Lagerfeld.
Chanel Meets the 90s
If you're thinking that the understated and refined Chanel seems totally at odds with the 90s, you would be wrong. As creative director for Chanel, Lagerfeld shocked and wowed critics with modern twists on the fashion houses' iconic motifs. We will never forget seeing Naomi Campbell walk down the runway in a bright purple tweed micro-minidress, complete with matching scrunchies.
Fendi Fall 2007 Runway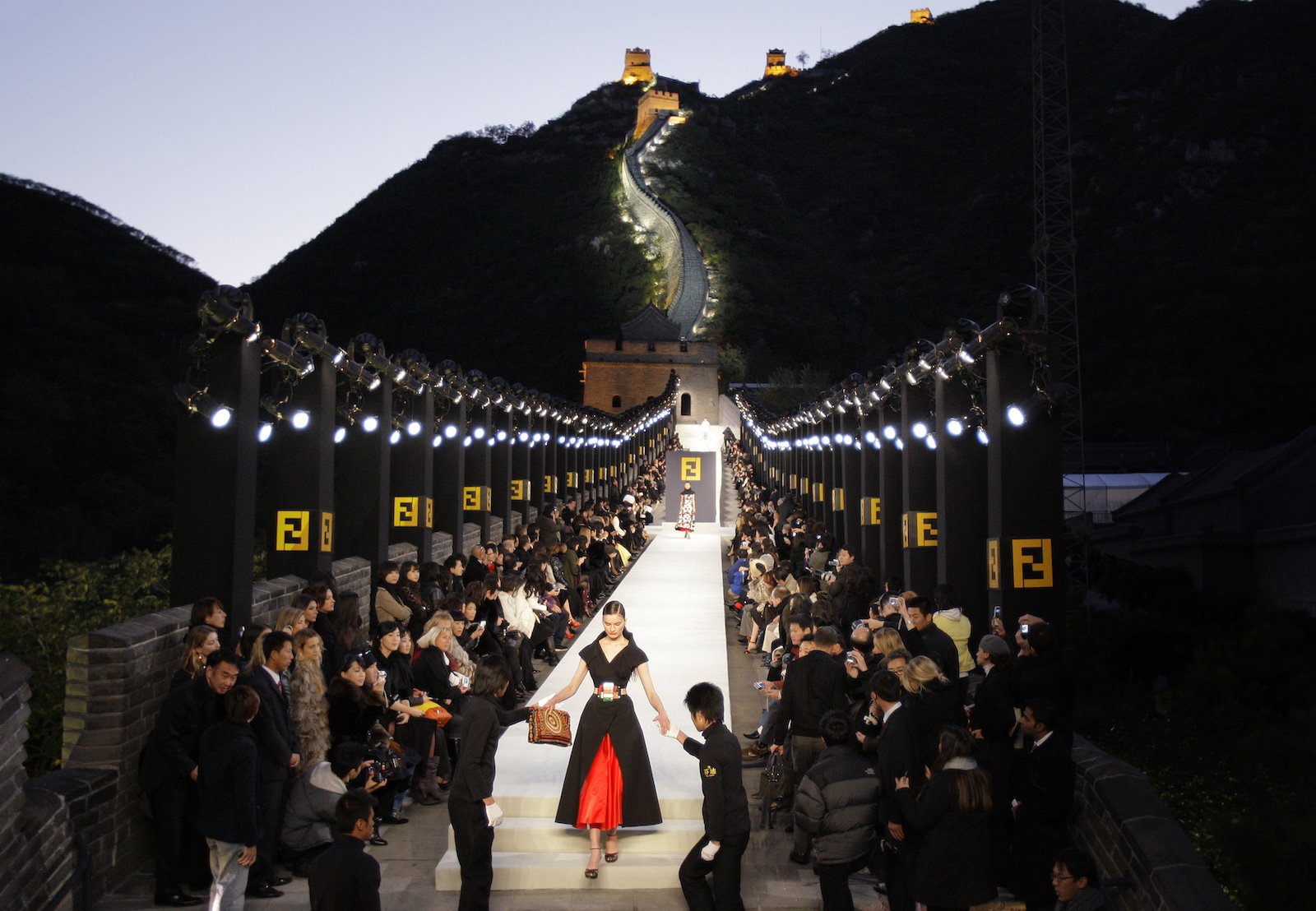 Only Lagerfeld could pull off a fashion show on the Great Wall of China. Fendi Fall 2007 featured furs and silks inspired by traditional Chinese apparel, as well as the resurgence of Fendi's signature baguette bag (a welcomed return, as far as we're concerned). See the show:
Runway Robots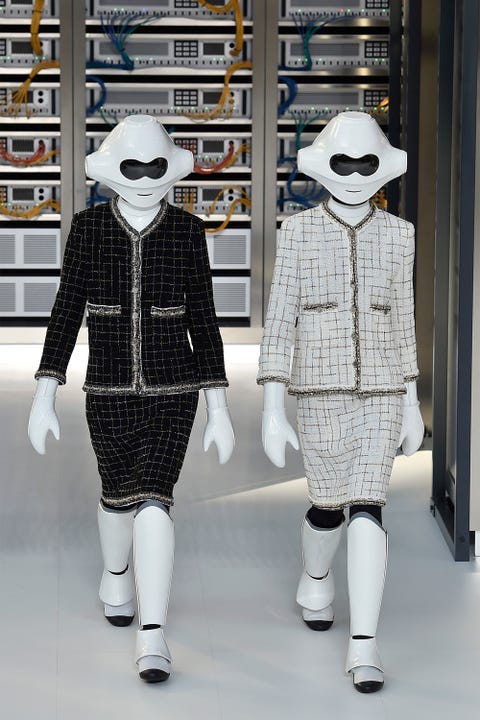 Rounding out the tech-themed Chanel Summer 2017 were two "Chanel robots" that walked the runway in monochromatic tweed suits. See the show in all its glory here. Lagerfeld created a backdrop of a Chanel "data center" for the show, which also featured flashing LED bags and clutches shaped like robots. In a video interview, Lagerfeld said "The robot – that is my idea of putting the most iconic jacket of the show on a creature of an unknown future that means Chanel is timeless".
Karl Lagerfeld will always be known for his creative genius and innovative designs. Lagerfeld's legacy lives on in his work, the iconic brands he built, and the next generation of designers he mentored. Rest in Peace Karl, you will be missed.