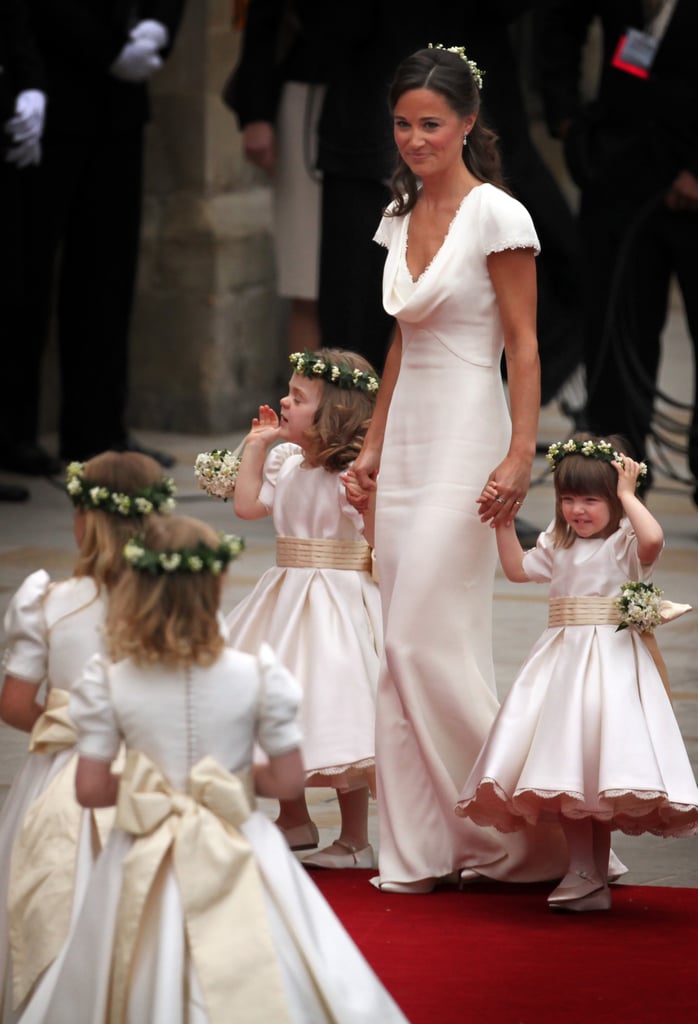 he Royal Family is back on America's radar as Pippa Middleton, the ever proper sister of Princess Kate, is set to marry financier James Matthews in May 2017. She first became famous when she sashayed down the red carpet to her sister's wedding in a simple and elegant ivory Alexander McQueen by Sarah Burton dress with a plunging neckline, lace details, and buttons tracing down her backbone. She stole the show during her sister's wedding, so who knows what she has under her sleeve for her own wedding.
Because Pippa is not a princess, she will have more choice in her dress and can take a little more risk in the design she chooses. She probably will choose a British designer like L.K. Bennett, Giles Deacon, Ralph & Russo, or Jenny Packham in order to stay loyal to her native country. She could also go towards the traditional wedding dress designers like Elie Saab, or Suzanne Neville. Of course, Pippa could also follow in her big sister's footsteps and pick Alexander McQueen, but this is her moment and every little sister wants to differentiate themselves from their older sibling.
The royal sisters do have a lot in common in terms of their fashion sense. Both of the women like labels such as, L.K. Bennett, Mulberry, Emilia Wickstead, and Temperley London. They have a respect for designer clothes, but also appreciate a good bargain at Zara. Pippa has more freedom in her clothing because she is in the public eye less. She is also younger and therefore dresses less sophisticated than Kate, but not in a bad way.
The royal family would not be complete without precious Prince George and Princess Charlotte. Their mother often dresses them in casual children's wear from lines such as Rachel Riley, Pepa and Company, and Neck &Neck, but for this more formal occasion, she might could splurge on buying designer ware for the children. The other adults of the family, Prince William and his brother Harry, will of course also be present at the private wedding. They will wear their traditional military wear.
As the date of the wedding approaches, one wonders if all the details of the wedding, including the dress, will be kept under wraps, the family will release information, or details will be leaked. We can only hope that we will get an early sneak peek of the details, because everyone knows it will be magnificently royal.
– Photos from PopSugar