As brisk November fades into cold December, everyone revels in the joy of winter fashion. While many women break out their elegant woolen peacoats for the post-Thanksgiving frost, it seems that men fall behind in the race to stay chic and warm at once. This lack of sartorial progress is marked by such failures as the bland puffers and the boxy wool overcoat.
Nevertheless, many men will find comfort in the solution to winter woes: the sleek, modern coat. These cold-weather remedies represent everything that's good about the popularization of menswear: better design and better style. Men now have access to coats that are chicer and more elegant than before. Here are some fashionable investments to help you brave the winter months: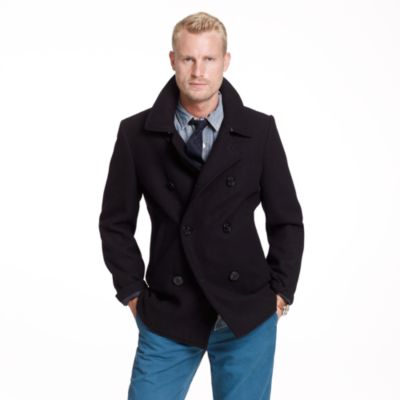 Authentic Bayswater Peacoat, $259.00 at J.Crew.
Who says classic can't be modern? Indeed, classic pieces can provide the most reinvigorating styles. The same is true for J.Crew's Bayswater Peacoat, a direct homage to the long tradition of well-dressed seafarers. This peacoat attracts shoppers with its refreshing proportions that hit the waist at a shorter length. The fit is slimming, elongating the figure in a way that is both traditional and trailblazing. The coat's slanted welt pockets and hidden iPod sleeve are among the details that set this coat apart from the rest.
Funnel Collar Coat, $249.00 at Zara.
For shoppers seeking a more modern aesthetic, Zara's Funnel Collar Coat is their preliminary clue. This cotton-exterior coat represents the intersection of utilitarianism and style. Easily cleanable fabric, a removable knit collar and the choice of either button or zip closure make for a no-hassle winter-appropriate choice. The minimalist opening and attention to detail up the ante on sleek style, creating a coat that can seamlessly transition from classroom to restaurant.
ASOS BLACK x Puma Arctic Parka, $140.72, at Asos.
Parkas are tricky questions that arise when shopping for winter coats. British online retailer Asos gets the answer in this season's collaboration with Puma. This piece from Asos' BLACK capsule collection sees a techy approach to cold weather dressing. The coat's futuristic nylon quilting provides a sporty, youthful look. "Conceal" is the operative word when discussing this piece: hidden pockets, an invisible snap and zip closure, and a lack of embellishment contribute to its strictly minimal style.
Down 4Way Coat, $129.00 at Uniqlo.
Japan-based retailer Uniqlo recently opened up online shopping to its U.S. customers. This means unlimited access to the brand's minimalist, sleek menswear. Why not take advantage with their super-utilitarian Down "4Way" Coat? Available in khaki, black, and gray, this high-tech outerwear is comprised of three looks that can be worn separate or together: an elegant shell, a down inner facing, and a basic base layer. Buyers can create a fourth look by adding the removable hood to brave inclement weather. The coat's classy brand of minimalism is the perfect way to dress up jeans or accompany a suit.
– Erich Kessel